Who Am I Essay Writing Guide
Updated:
Have you been asked to present a personal statement to a nursing college? Do you intend to apply for a scholarship and aren't sure of how to express yourself in the essay? Don't worry; this guide is going to help you.
Who am I essay should entail your personal story of why you want to apply for that job or course. You should convince the admission team or the selection committee why you are the best. Remember, there are very many candidates applying for the same position. Therefore, you should present yourself as the best and impress the team to choose you.
Read more on the steps of writing this essay, the best tips to apply, and the formats you should use.


Are you in need of a high-quality, 100% plagiarism free essay or online class help?
Place your order and get 100% original work.
Which are the Instances that You May Write this Essay?
You will be required to write who am I essay in the following scenarios:
When applying for a nursing college and they ask for a personal statement
When applying for a scholarship
Seeking promotion at your workplace
Applying for a job or during an interview
When writing an autobiography
All the above are instances when you can write who am I essay. If you aren't sure how to handle it, we can help you. Place an order for our personal statement writing service.
How to Write Who am I Essay
The following are the steps that you should follow while writing this essay:
1. Brainstorm on the Strengths that Define You
List the qualities that define you in terms of achievements, skills, and experiences you have encountered in life which are very significant to your application. You should ask yourself several questions to help you brainstorm and highlight your qualities.
What is your background in education and family?
What was the unique occurrence about your background that impacted your life?
Which is your greatest achievement in life? How did you achieve it, and what challenges did you encounter?
What is the most memorable thing that changed your perception of your life?
You can use these questions to trigger those unique traits and write them down.
2. Create the Essay Outline
List all the key points you wish to express in this essay. Note that your essay should have an introduction, body, and conclusion. Therefore, meditate on what you will write in all three sections and have the key points that will help you.
You look at the following examples of a who am I essay outline:
Introduction
Hook
Thesis statement
A preview of what you will discuss in the body
Body
Each paragraph should have a topic sentence that states the topic in the paragraphs first, 2nd, or 3rd depending on the topics you will discuss.
Supporting details of the topic sentence. In this essay, ensure you add examples to support your discussion
Explanation of how the example supports your claim
Concluding paragraph
Should have a reverse hook, restate the thesis statement
Summarize the main topics or ideas in the body
Give a call to action or food for thought
3. Write Your Essay
To make your essay presentable, you should have good writing skills. Be creative in presenting your ideas and use impressive language that is vivid and descriptive words that make it lively. But, ensure you don't use words you aren't familiar with for the sake of writing. Your content should be logical and clear.
Also, ensure you observe the following while writing:
Organize your paragraphs well, each with a new idea
Use active voice and action words
Use claims and examples to back up your claims
Be original, avoid coping someone else work or submit an essay you had presented before
4. Proofread and Edit Your Essay
Always double-check your work before submission to check for typos, grammatical errors, sentence structure, etc. Check if the essay has a flow of ideas and if you have answered the questions accordingly. If possible, request a friend or relative proofread it for you.
Which are the Writing Essay Formats that You Can Use?
There are four writing formats that you can consider for who am I essay as follows:
Narrative format – where you focus on your life story. The story can take many angles, like personal, family, or life experiences. So, this format will utilize personal anecdotes to communicate the experiences.
The philosophical format focuses on the mysteries of life and nature, so the essay engages the audience on a discovery journey. Therefore, you should focus on who you are in terms of strengths and weaknesses and not personal experiences.
College application format – format used to persuade the board to admit you to the institution. As you write the application, you only focus on the attributes that will advance the admission. Such details are personal traits, academic performance, work experience, and future goals. If you need guidelines on this format, check out how to write a personal statement for nursing
Job application format – focuses on the skills and experiences related to the job. If, for instance, you have more skills or even qualifications that aren't stated in the description, then it's best to omit them. So, this format looks the same as a college application because the main aim is to emerge as the best candidate and get the chance.
Autobiographical ­–its story that captures your entire life. Though it's hard to capture every detail of a person in a story, there are some aspects you should focus on to make it easy for someone to understand. Some include race, ethnicity, language, nationality, academic achievements, professional accomplishments, marital status, and social contribution through charity work. Read through the autobiographical outline to understand more.
Which Writing Ideas Can You Consider for Who Am I Essay?
You have a presentable personality, a great leader, and all those positive traits that the hiring or the selection team doesn't know about. Therefore, you should present an impeccable essay that will amaze the team until they can't resist meeting you in person for an interview.
So, which ideas should you focus on? Below is a list of traits you can consider discussing in the essay, depending on your prompt:
1. Leadership traits
Depending on the essay prompt, leadership skills could be a great option. Explain how life experiences have transformed you into an individual with quality leadership skills. There are many essays that can explore this idea of leadership, for example:
"Illustrate how you have organized activities and they succeeded under your authority – it can be a social event like a symposium, a study group presentation, or fundraising in school or your community. All these activities will portray you as a leader."
"You can also give a life experience where you have acted as a guardian to your siblings or even a mentor to someone."
2. Future goals or dreams
If focusing on a scholarship application or even a job promotion, they want to know your career or personal goals. Ensure you discuss goals that align with the application, character, and performance.
Again, explain how you are going to achieve those goals. How will the opportunity and your traits help you achieve them, and why are these goals important?
3. Focus on achievements
What have you achieved in life so far, and it's very significant? You may highlight academic performance from a unique perspective that people don't know. Also, you have specific skills that make you stand out among your peers. Additionally, it may be a very difficult life experience, but it turned out to be the best thing, and you became a warrior.
Best Tricks to Use in Writing a Personal Essay
Be honest – don't exaggerate your abilities or traits. Describe who you are with relevant, unique examples that have occurred in your life.
Avoid boasting – as you describe your traits, remember to remain professional and don't overdo it. Demonstrate your potential in a formal language, as we have illustrated in our college application essay writing help.
Know your audience – it's best first to learn your audience when writing this personal essay. You will learn the reader's expectations and thus focus on them.
Use creativity to make the essay interesting- use some storytelling techniques, conversational, and use active voice.
Example of Who Am I Essay Prompts
Tell me about yourself.
Describe a challenge or event that made you who you are today.
What are your short and long-term goals, and how do you plan to achieve them?
Write about a time you failed at something. How did it affect you?
Who do you want to be in 5 or 10 years?
What is your favorite educative movie?
What are your likes and dislikes?
How are your bravest moments?
How have you portrayed your leadership qualities?
Describe your academic and career
Describe a situation that made you feel prepared to be successful in college.
Who is the person that has most impacted your life?
Discuss your academic and career goals in the nursing field.
What makes you angry? What have you been doing about it?
What is your accomplishment unrelated to academics, and what does it mean to you?
Examples of Words You Can Use in Who Am I Essay
Below are some words you can use to describe yourself professionally:
Artistic
Athletic
Authentic
Brave
Committed
Compassionate
Courageous
Curious
Daring
Dedicated
Diligent
Down-to-earth
Enthusiastic
Extroverted
Fearless
Honest
Words to describe yourself socially
Amazing
Awesome
Dynamic
Funny
Honest
Humble
Intelligent
Talented
Visionary
Words to describe yourself during an interview
Resourceful
Self-starter
Experienced
Calculated
Knowledgeable
Honest
Devoted
Attentive
Meticulous
Professional
Patient
Empathetic
Structured
How Do You Find the Description Words to Use in Your Essay?
Here are some tips that can help you pick the right words to describe yourself in a personal essay:
Brainstorm your strengths – reflect on the best traits you would like to present to the hiring or recruiting team.
Be specific – focus on the traits that will present you as a unique candidate. You can use a dictionary to find a synonym of the most obvious descriptive words to make yourself stand out.
Ask your peers for help – if you are unsure how to describe yourself, you may need to ask your friends for help. Sometimes there are those aspects you do not easily notice, like curricula activities and social, so there is no harm in asking.
Focus on the positive traits – you want to present the best image about you to earn that position or even admission, so ensure you present your strengths. If asked to describe your weaknesses, you should phrase them positively on how you overcame them.
Frequently Asked Questions
1. How Can I Write a Good Essay About Myself?
You can use the following steps to write a good essay about yourself:
Ensure you describe who you are in details
Describe the achievements you have made in life concerning the application or prompt
Use personal experiences and examples when describing who you are
Make the essay interesting and creative by learning more tips here.
2. How Long Should a Who Am I Essay Be?
A personal essay, also called a personal statement, can be around 400-600 words, depending on your essay prompt. So the essay can either be shorter or longer than this limit if you are given specific instructions, but a standard one should be within this range. For example, if you apply for college admission, you may be required to write several supplemental personal essays of less than 300 words. Get more insights on the length of this personal essay in our article how long should a college essay be?
3. Which are the Scenarios I Should Describe Myself?
You will be required to describe yourself in the following scenarios:
During an interview for a job or promotion
When applying for a job promotion
When making a college admission
When applying for a scholarship
When writing your resume
Summing Up
Writing an essay may sound technical, but it's easy if you follow the tips in this guide. First, you should understand the aim of this essay; is it a job application, college, or autobiography? This step will help you create the best outline and focus on the relevant key aspects of your life.
So, there are various formats you can use, like narrative, philosophical, and autobiography. Again, follow the standard guidelines, like learning your audience, using interesting language, being original, etc. Following all the recommended tactics will help you create an impressive who am I essay. If you need our help, place an order for our services.

---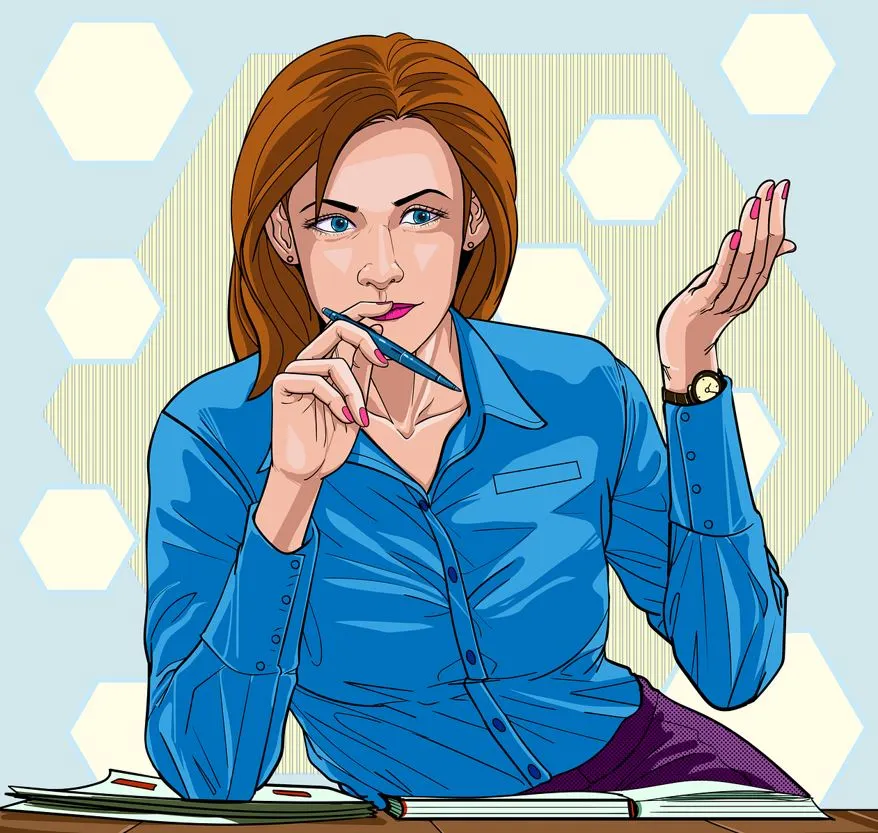 Meet the author
By
Melanie
Melanie is a seasoned writer with more than 8 years of experience. She is passionate about academia and works off the clock to ensure she write the topnotch content for her readers.